Red Hat Amphitheater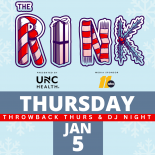 January 5, 2023
|
Thursday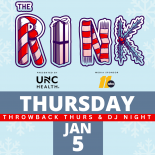 January 5th is Throwback Thursday & DJ Night. The Rink will take guests back to the 90s with throwback board games like Guess Who?, Bop It!, Sorry! and Rubix Cubes, a Hip Hop themed selfie booth featuring an inflatable boom box, Nokia phone and sax and specialty draft beer will be served in 90's dixie cups. DJ Luxe Posh will be playing classic 90's hip hop
Come enjoy the thrill of ice skating in a winter wonderland created in the heart of downtown Raleigh! THE RINK presented by UNC Health features a natural ice skating rink with stunning views of the Raleigh skyline.
Tickets are on sale now and available online or in person at the Duke Energy Center box office (M-F 10am-2pm).
All weather-related decisions will be monitored and determined on the day of the scheduled event.