Red Hat Amphitheater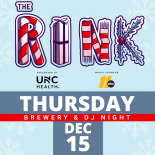 December 15, 2022
|
Thursday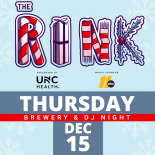 December 15 is Brewery & DJ Night. Local favorite Breniecia Reuben will be spinning from the Red Hat stage on Thursdays and bringing the good vibes. A local brewery and brew master will also be featured. Our local partners include Trophy, Crank Arm and NODA.
Come enjoy the thrill of ice skating in a winter wonderland created in the heart of downtown Raleigh! THE RINK presented by UNC Health features a natural ice skating rink with stunning views of the Raleigh skyline.
Tickets are on sale now and available online or in person at the Duke Energy Center box office (M-F 10am-2pm).