Jul
26
IRATION: LIVE FROM PARADISE 2019 TOUR WITH SPECIAL GUESTS PEPPER FORTUNATE YOUTH, AND KATASTRO
Red Hat Amphitheater
Red Hat Amphitheater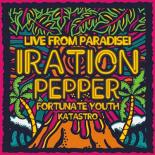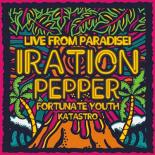 Iration, with special guests Pepper, Fortunate Youth, and Katastro, will be coming to you "Live From Paradise!" this spring and summer. By tapping some unparalleled aloha spirit, these acts are combining forces to spread nothing but good vibes across the country, creating a truly serene and exclusive environment at each tour stop.  
IRATION with special guests Pepper, Fortunate Youth, and Katastro will play Charlotte Metro Credit Union Amphitheatre on May 9 and Red Hat Amphitheater Raleigh on Friday, July 26. Tickets go on sale Friday February 8 at 1pm at LiveNation.com, via the Live Nation app, Ticketmaster, and by phone at 800-745-3000.
"We're very proud to present to you Live From Paradise! - a night of music intended to transport you to your happy place. Four amazing bands, all unique, all bringing the fire. Come out and join us this spring and summer; let's experience paradise together," shares lead vocalist/guitarist Micah Pueschel. 
Iration (Micah Pueschel - lead vocals/guitar, Adam Taylor - bass, Joe Dickens - drums, Cayson Peterson - keyboards, Micah Brown - guitar/vocals) continues to tour behind their latest self-titled album, released May 2018 via their own Three Prong Records, and marks the reggae-influenced alternative rock band's sixth full-length album. Watch the official video for their latest single, "Press Play," which was added into rotation at alternative radio stations from Los Angeles' KROQ to Miami's 104.3 The Shark, from Washington DC's DC101 to San Francisco's KFOG, here: https://www.youtube.com/watch?v=DxMRgJkbEEo
For more information or to purchase tickets go to livenation.com.