Red Hat Amphitheater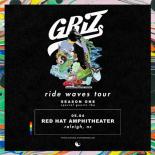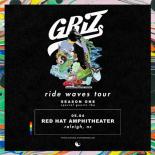 GRiZ will play Red Hat Amphitheater in Raleigh on Saturday, May 4. Tickets go on sale to the general public Friday January 25 and will be available via livenation.com, the Duke Energy Center Box Office, Ticketmaster, and by phone at 800-745-3000.
Every time GRiZ puts his mind to something, it's a moment. It's a fleshed out idea, a fruit of commitment and passion, not an idea thrown at a wall and moved on from. Today, multi-instrumentalist, artist, producer, philanthropist and LGBTQ advocate, GRiZ, announces his sixth studio album, Ride Waves, along with a US headline tour, and releases a new single, "I'm Good.

Ride Waves is the culmination of the last two years for GRiZ––a period pillared by his own creative exile, high impact socio-cultural issues, and a slew of communities and relationships in which he has embedded himself. 
The 14-track LP sees Grant being immersed into the environments that have inspired his carefully curated sound. He tapped hip-hop favorites like Wiz Khalifa on "Find My Own Way," and DRAM for "It Gets Better." His sonic journey touched down in New York's urban core to record with the Harlem Gospel Choir, stepped into Chicago's South Side to collaborate with Chicago Children's Choir, and spanned across many sessions in New Orleans. Snoop Dogg even sent in a verse from his studio in Long Beach. 
There's truly something for everybody in the record. Each song tips a hat to Grant's personality, and many parts of this represent moments of reflection. GRiZ and Matisyahu were in the studio just days after February's Parkland shooting, and a song about gun violence, "A New Day," became of it. The album parallels Grant's core as a human; it's about love and a need for peace. It's just another piece to the puzzle that represents GRiZ becoming the positive force that mainstream electronic and popular culture need.
Ride Waves will be paired with a US album tour titled Ride Waves Tour: Season One, which kicks off in March and will be touching down in Brooklyn, Philadelphia, St. Augustine, Minneapolis, and more. Tickets go on sale to the general public starting Friday, January 25th at 10am local time at mynameisgriz.com. He will also be performing at a number of festivals this year including New Orleans Buku Music & Arts Project, Miami's Ultra Music Festival, and more.