Red Hat Amphitheater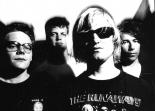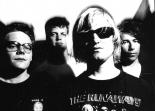 30 years ago, a group of students at UNC and Wake Forest formed Dillon Fence. Their 1989 self-titled debut EP and a subsequent early '90s album releases on Mammoth and Atlantic Records heralded Chapel Hill, NC as a new music mecca. They played thousands of gigs together in their initial 9 year run, touring the United States, Canada and Europe. The band reunites for a few shows every year. For many, Dillon Fence music is a big part of the soundtrack to their lives.
------
Arson Daily. It's the product of over 4 years of basements, bars, van transit, and general disillusionment.
The latter being most apparent, long-time roommates Zach Dunham (guitar/vocals), Adam McLean (drums), and Quincy Platt (bass) have succeeded in conquering adolescence and are actively seeking out maturity. Raleigh-based Arson Daily has made the conscious effort to grow beyond their traditionally raw, garage-rock predispositions by experimenting with new methods of songwriting. Leaving the electric instruments in their noisy home studio, most of Arson Daily's newest album, Late Reflections, has been written in every room of their house on acoustic instruments. After intimately crafting the soul of each song, they would bring it in to their studio to guide it, one small layer at a time, into their eclectic vision featuring sonic qualities comparable to surf-western, Nashville garage rock, and indie radio trash.
Late Reflections, released April 3rd, 2020, was recorded and produced with Mo Lowda and the Humble in Philadelphia. Late Reflections drives listeners through the satisfaction of accomplishment while wrestling with the hesitance and nostalgia that inherently accompanies change. Late Reflections has everything to do with accepting individuality, its inherent susceptibility to rejection, and the unabashed courage to do it anyway. 
Such themes will harbor interest to those who've known Arson Daily since their 2014 inception, reminiscent of noise complaints and soon-to-be-failed hearing tests in the Boone, NC basement scene. Having since graduated and relocated to Raleigh, NC, hungover with adulthood, Daily has ditched the booze enameled college boys vibe and taken a leap forward with the vulnerability of their content. 
The last three years have seen the boys consistently booking venues and performing alongside names such as Band of Horses, Shakey Graves, Illiterate Light, and Briston Maroney.
Anyone who's seen this group knows that a vestibule-pounding live performance is the core of their music. Arson Daily's essence has always been best communicated through the translucent shadows kiltering through the night during their concerts. There's something lost through the conversion of all music into a digital medium. It's Arson Daily's nature to reclaim that intangible quality within every audience.